Challenge: Developing a new paid media strategy to boost sales
Submarino Viagens was a pioneer in the online sale of airline tickets, hotels, packages and cruises in Brazil. Through technology and a very comprehensive booking system, consumers can find the best deals on air tickets, accommodation, tour packages, cruises, tours, car rentals and travel insurance, for immediate or planned departures.
The company has competitive and guaranteed offers in more than 200 thousand hotels and 750 airlines around the world, offering options for leisure or business travelers, whether accompanied or alone. Since 2015, Submarino Viagens has been part of CVC Corp, the largest group of travel companies in the Americas.
Submarino Viagens already had a mature Google Ads account and was beginning to find it difficult to continue scaling its results profitably, as it already had good coverage of the highest profitability terms. Its biggest challenge was finding new ways to drive sales through sponsored link ads.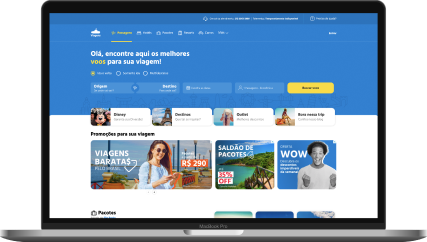 Results: Google Machine Learning
As a partner of Submarino Viagens, Performa Web implemented a new automatic bidding strategy based on historical data, context, behavior and user profile.
The media team stopped working with Last Click Attribution, a model that ignores all previous user interactions and considers only the last click performed, and now works with a data-based attribution model ( DDA, or Data Driven Attribution).
With this new model, Google Machine Learning considers the entire user journey and determines how much credit should be assigned to each click. This way, even if the ad doesn't convert right away, it's possible to analyze that the previous clicks were fundamental for the user's conversion into a customer.
With this new strategy, Performa Web generated surprising results in a short time. Within one year, Submarino Viagens had its ROI (return on investment) increased by 58% and revenue by 57%.
Results achieved
+ 57%

revenue (YoY)

+ 58%

ROI (YoY)

- 1%

investment (YoY)
See our client's opinions
Our partnership with Performa Web started in 2015 and since then, not only has traffic increased, but sales made through our e-commerce have grown considerably. Performa Web's team has vast experience and this helps us to evolve every day, making the most of all the features and formats of performance media channels in order to deliver better results. They also support us on the SEO front, helping us to achieve better positioning in search results. We are very satisfied with the results and we trust them to keep growing.

GIULIANO REZENDE
NIKE Media Manager
With a lockdown scenario and physical stores closed during Easter, attention turned to digital and Performa Web's strategy made the difference. With reports and dashboards updated in real time, we were able to study and act with agility to ensure the best media performance and sales results on the website, exceeding the proposed goals.

PEDRO PASQUALUCCI CALÇADA
Marketing Coordinator at Kopenhagen
A Performa Web nos atende em em gestão de mídia e em SEO. Para nós a Performa Web é muito mais do que uma prestadora de serviços da Fnac Brasil. Nós percebemos o quanto a Performa Web veste a nossa camisa, trabalha junto, dedicando-se o tempo todo a nos orientar com as soluções que precisamos e somando todo o seu expertise em Marketing Digital ao do time da Fnac Brasil com insights e aproveitando grandes oportunidades. A sensação que temos é de que somos uma única equipe. Já são quase dois anos de parceria e estamos realmente muito satisfeitos com a parceria e resultados obtidos!

ALINE DUTRA
Performance FNAC
It's with great satisfaction that we work with Performa Web. We found professionals committed to results and even with little service time we have already been able to see positive results.

LUCIANO BARRETO
Investor & Strategic Advisor.
Performa Web develops excellent results-driven strategic work. The team insists on understanding the client's business and being part of its daily goals and challenges. But the difference that stands out is the service that is always close, as they understand our needs and work as a team to deliver the best result.

Adriana Isidio
Marketing Manager at Vetor Editora.
Meet our success stories
Kopenhagen
Kopenhagen conquers 48% of total sales with media strategies
Learn more
Services: media management, business intelligence
Submarino Viagens
App achieves profitability 40% bigger than its website
Learn more
Services: media management, campaigns for apps
Nova Flor
Nova Flor increases 4x its e-commerce conversion rate
Learn more
Services: media management, CRO, SEO
Nike Cyber Week
Nike increases e-commerce revenue by 89% with integrated paid media strategy
Learn more
Services: paid media management
Anfitrião Prime
Anfitrião Prime increases organic website traffic by 800%
Learn more
Services: Site load time, SEO
Vetor Editora
Vetor Editora increases its revenue by 204% with paid media strategies
Learn more
Services: paid media management
The Pillars of Performa Web's Services
Contact us
Talk to our experts and find out how Performa web can help you transform your business.
+ 400 Million

Reais Invested