Technology that benefits productivity
With 93 years of history, Kopenhagen, a 100% Brazilian brand, was born with a purpose: to create unique emotions from the unique flavor of its chocolate. And this goal is increasingly consolidated every year.
During the COVID-19 pandemic, businesses closed and many companies needed to adapt their internal structure to serve online. With Kopenhagen it was no different and the company had to transform e-commerce into the main protagonist for the sale of the brand's products.
To ensure that the commercial operation was successful on all results, the company needed to speed up the omnichannel process, optimize its inventory management, update its shipping policy, improve the visibility of its e-commerce for organic search, and improve the shopping experience.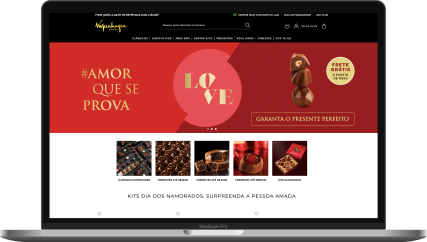 Result: Digital revolution and lots of chocolate
In order for Kopenhagen to achieve these results, Performa Web developed a media plan focused on Easter sales. Different types of affiliate marketing campaigns (Lomadee), Google Search, Facebook Ads were created, with specific targeting according to the journey of each customer.
In addition, Kopenhagen had the support of PW's Business Intelligence specialists to create reports and dashboards that showed real-time Easter campaign results and all the metrics necessary to understand the behavior of the business.
Web Performa promoted a transformation in e-commerce Kopenhagen with Google ads, O2O, app campaigns, remarketing, social ads, e-commerce, omnichannel, tagueamento de sites e data extraction services.
Results achieved
+ 2.8 million

visits to the website

90% of the channel's sales share

in Search+Shopping paid media strategies

+ 70 thousand

orders generated in e-commerce
See our client's opinions
With a lockdown scenario and physical stores closed during Easter, attention turned to digital and Performa Web's strategy made the difference. With reports and dashboards updated in real time, we were able to study and act with agility to ensure the best media performance and sales results on the website, exceeding the proposed goals.

PEDRO PASQUALUCCI CALÇADA
Marketing Coordinator at Kopenhagen
Meet our success stories
Submarino Viagens
App achieves profitability 40% bigger than its website
Learn more
Services: media management, campaigns for apps
Submarino Viagens
Viagens increases revenue in 57%
Learn more
Services: media management, consulting and strategy, machine learning
Nova Flor
Nova Flor increases 4x its e-commerce conversion rate
Learn more
Services: media management, CRO, SEO
Nike Cyber Week
Nike increases e-commerce revenue by 89% with integrated paid media strategy
Learn more
Services: paid media management
Anfitrião Prime
Anfitrião Prime increases organic website traffic by 800%
Learn more
Services: Site load time, SEO
Vetor Editora
Vetor Editora increases its revenue by 204% with paid media strategies
Learn more
Services: paid media management
The Pillars of Performa Web's Services
Contact us
Talk to our experts and find out how Performa web can help you transform your business.
+ 400 Million

Reais Invested