Challenge: Increasing traffic and boosting e-commerce sales
Nova Flor, part of the Giuliana Flores group, is an online flower shop that was born to offer an easy-access option for those who want to gift flowers. The company has been present in the market since the early 2000s and delivers arrangements and gifts throughout Brazil. In its catalog, there are several options of flowers, arrangements, baskets and accessories for all tastes and budgets, made with high quality and care.
Nova Flor had a very clear challenge: reversing the results of its e-commerce and boosting online sales. We needed to draw up a strategic plan to change this situation, considering aspects such as the website's conversion rate, media management campaigns and SEO optimization.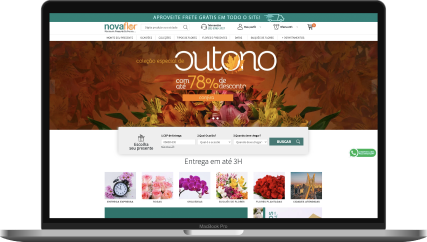 Results: Increased website traffic and conversion rate
Para superar o desafio proposto pela Nova Flor dentro do tempo estipulado de 6 meses, a Performa Web estruturou uma estratégia integrada que contou com a colaboração de diversas áreas."
We combined the restructuring of media campaigns with an incisive plan to improve the site, based on CRO (conversion rate optimization) and SEO (search engine optimization) methodologies and actions.
First, we carried out an e-commerce technical diagnosis and mapped opportunities for improvement, taking into account CRO and SEO. best practices. In addition, we expanded the semantic field of keywords to cover all regions of the country, with the aim of improving the organic positioning of Nova Flor's e-commerce in the main search engines.
The results exceeded expectations in the first few months. In addition to the increase in organic and paid traffic, the conversion rate increased 4 times and ROAS was multiplied by 7!
Results achieved
+ 4x

Conversion Ratio (CVR)

+ 7x

ROAS

140%

organic traffic clicks (YoY)
See our client's opinions
Our partnership with Performa Web started in 2015 and since then, not only has traffic increased, but sales made through our e-commerce have grown considerably. Performa Web's team has vast experience and this helps us to evolve every day, making the most of all the features and formats of performance media channels in order to deliver better results. They also support us on the SEO front, helping us to achieve better positioning in search results. We are very satisfied with the results and we trust them to keep growing.

GIULIANO REZENDE
NIKE Media Manager
With a lockdown scenario and physical stores closed during Easter, attention turned to digital and Performa Web's strategy made the difference. With reports and dashboards updated in real time, we were able to study and act with agility to ensure the best media performance and sales results on the website, exceeding the proposed goals.

PEDRO PASQUALUCCI CALÇADA
Marketing Coordinator at Kopenhagen
A Performa Web nos atende em em gestão de mídia e em SEO. Para nós a Performa Web é muito mais do que uma prestadora de serviços da Fnac Brasil. Nós percebemos o quanto a Performa Web veste a nossa camisa, trabalha junto, dedicando-se o tempo todo a nos orientar com as soluções que precisamos e somando todo o seu expertise em Marketing Digital ao do time da Fnac Brasil com insights e aproveitando grandes oportunidades. A sensação que temos é de que somos uma única equipe. Já são quase dois anos de parceria e estamos realmente muito satisfeitos com a parceria e resultados obtidos!

ALINE DUTRA
Performance FNAC
It's with great satisfaction that we work with Performa Web. We found professionals committed to results and even with little service time we have already been able to see positive results.

LUCIANO BARRETO
Investor & Strategic Advisor.
Performa Web develops excellent results-driven strategic work. The team insists on understanding the client's business and being part of its daily goals and challenges. But the difference that stands out is the service that is always close, as they understand our needs and work as a team to deliver the best result.

Adriana Isidio
Marketing Manager at Vetor Editora.
Meet our success stories
Kopenhagen
Kopenhagen conquers 48% of total sales with media strategies
Learn more
Services: media management, business intelligence
Submarino Viagens
App achieves profitability 40% bigger than its website
Learn more
Services: media management, campaigns for apps
Submarino Viagens
Viagens increases revenue in 57%
Learn more
Services: media management, consulting and strategy, machine learning
Nike Cyber Week
Nike increases e-commerce revenue by 89% with integrated paid media strategy
Learn more
Services: paid media management
Anfitrião Prime
Anfitrião Prime increases organic website traffic by 800%
Learn more
Services: Site load time, SEO
Vetor Editora
Vetor Editora increases its revenue by 204% with paid media strategies
Learn more
Services: paid media management
The Pillars of Performa Web's Services
Contact us
Talk to our experts and find out how Performa web can help you transform your business.
+ 400 Million

Reais Invested